---



Fakes, reproductions, replicas,
an investigative report, by Harry Ridgeway
---
Fakes, reproductions, replicas,
CS oval, Breckinridge style, Confederate plates 148 to 156
Disclaimer: by clicking onto this page you are expressly accepting the terms of the disclaimer explained fully on the fakes main page.
---
---
Plates 148 to 151, die stamped
Original was crudely stamped on heavy sheet, is not lead filled. Scraps of cut brass were used for hooks. Letters have a distinct boxey look.
---
| | | | | |
| --- | --- | --- | --- | --- |
| PF1407 | | | | CS oval buckle "Breckinridge" style |
---
Editor note: Plate was listed on my webpage for a brief period, then recalled and sent back to its source. The seller originally got this piece off of ebay. The buckle appears to have been stamped without a counter die and is thus indistinct. Solder marks were placed on the back to deceive. My opinion is that this is repro, I returned it to my source and did not sell it.
---
F1267 Oval CS buckle


Plate measures 54mm X 84mm approximately, it is impossible to get meaningful measurements of hand cut oval buckles.
Editor note: This buckle was submitted to me for evaluation. The owner was highly suspicious he had gotten duped, and I am sorry to say his instincts are correct. This has been aged with a sulfur compound, I think, somebody probably did poke a real bayonet through it, but that is as close as this piece of junk is going to get to anything authentic. I think this was meant to be a copy of the Breckinridge, but the stamping is so weak it could be almost anything, except it is not anything that is real.
---
Plates 154 to 156 cast Breckinridge
Original is solid cast copied from the die stamped version. Hooks are round straight hooks, very little tapering. The name "Breckinridge" applied to these buckles is not a contemporary term.
---
F1112 CS cast Breckinridge, made by Hanover Brass


"This reproduction CS Breckinridge Belt plate is a MUST for anyone who enjoys civil war belt buckles. It is cast in red brass and as close as you will get to the original. Marked as a reproduction. The original of this belt plate was dug from a Tennessee battlefield."
Source: ebay listing by jaglady00 6/1/06 "Solid Cast Breckinridge CS Belt Buckle Plate Item number: 6633174308"

Editor note: "jaglady00" is Hanover Brass, items sold as reproductions.


Gary Williams explanation, (civilwarfakes.com Photo # CSGP13)



Plate 154 Solid Cast (Breckinridge) CS Oval Belt Plate. 52 x 78mm. Original from the John Turner collection. This is one of the most faked plates I reproduce. There are several on line now for sale. You can tell this plate by the flaws on the face and all that are cast by me have these same flaws. Also, the original has the back hooks broken off and the CS troops tried to repair it with solder. The back end of the "C" is rubbed out. You can see where I cleaned the master pattern from the back edge of the "C" to the end of the plate. I smoothed out the rough solder marks and placed my two hooks on the edge of the "C". There should be no reason for dealers to be buying this plate as original. All have this flaw and all are too small. The fakers can straighten out the body curve in the plate to make it look larger. It will still have the same marks on the face and also the same flaws in back of the "C". This belt plate should never be a problem if you look for the flaws that are easy to see. Remember, there is one original out there.
Editor Note: My understanding is that the "original" will be splattered with this solder, but the two hooks will be missing. I have not seen the original but there are a bunch of these plates out there with this fuzzy stuff on the back. Some of the fakers are doing a fair job of milling out the back but if you look close it can be seen.
---
F1106 Cast Breckinridge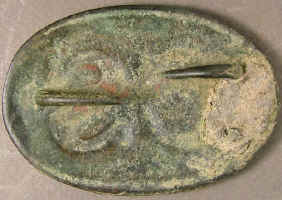 This piece measures 54.6mm x 80.5mm
Editor note The owner of this piece submitted this piece to me for inspection. It was bought from Peter Shaw, Hanover Virginia on ebay. I told the owner that I believe this piece to be a repro. This matches the Hanover Brass example in every detail except one hook has been removed to make it look "used". I will also note that the measurements are showing a little larger than the Hanover Brass published example. I am told that some fakers will slightly flatten the piece and that will "spread" out an oval piece and give the appearance of larger measurements. I will note though that the measurements are not going to be very meaningful on any oval buckles because the rounded shape means the point of measurement is too irregular to be reliable.
---
F1067 "Breckinridge" solid cast CS oval beltplate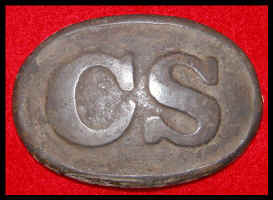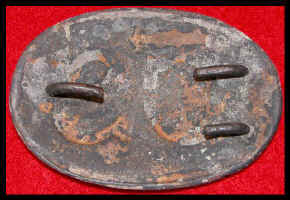 "Confederate Solid Cast Breckinridge Oval Waist Belt Plate
Beautiful example of this rarity 8 plate measuring 55mm x 80mm. This one was excavated in Selma, North Carolina, one of the last camps of the Army of Tennessee.
Slick chocolate patina on face, all three original hooks and some dirt still clinging to the reverse. A superb example throughout."

Source: webpage listing
Editor note: The seller of this plate is a respected dealer and he obviously feels this plate is good. Many of the tiny flaws in this plate seem to match the other questioned examples and the Hanover Brass repro, all pictured above. The size seems to match the other repro example noted, and both of these are considerably larger than the the measurements stated by Hanover Brass. I cannot explain this apparent discrepancy in measurements. At this point I do not have a hard copy of the HB casting to compare to but will photograph and measure it once I do get a copy to work with. In the meanwhile, it is my respectful opinion that this plate cannot be shown to be authentic.
---
F1161 Another example of cast Breckinridge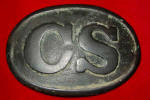 Source: Picture supplied by dealer who listed this on his webpage, then de-listed and returned to his source because he concluded it is a fake. Unfortunately measurements are not available. This picture was obtained with permission.
---
[Return to relicman main page, (real stuff), enough of these fakes!]