A0086

...

Rifled artillery projectile, Read design, Confederate manufacture, bursting shell, long pattern with bourrelet rings, tall copper ring sabot with notch, copper time fuze, Confederate rifle, 3.25 or 3.3 in

. Projectile was Confederate manufactured during the war employing John Read's design, probably at Selma Arsenal. This pattern utilized two wide bourrelet rings, as a labor saving device, only the rings had to be accurately machined, the rest could be left rough. The nose is relatively pointed, and the width of the bourrelet rings varies considerably, presumably this is operator variance in the finishing process. The base is raised and milled to a bevel leaving a depressed ring between the base and the sabot, lathe dimple is found on the base. Read developed this copper ring sabot, it was more flexible than the earlier wrought iron sabot, sabot is tapered at the top and seated in a deep groove well inside of the iron base, flame grooves were cut into the sabot. Copper ring sabot was cast thin. Fuze employed was a Confederate copper time fuze, two spanner holes, Jones pg. 41.
Reference: Dickey & George, Field Artillery (1993 Edition), pg. 268.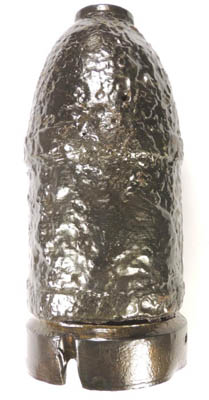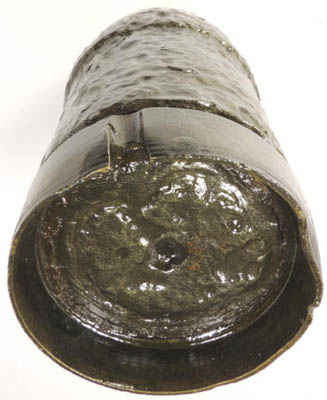 Projectile measures: diameter 3.2in., length 6.6in. (excluding fuze), weight 7.7lbs. Sabot is not fired. Copper time fuze intact. Metal quality solid. Projectile is disarmed, drill hole through the paper section of the time fuze. Recovered: Oconee River cache near Milledgeville, Georgia, which apparently was used as a site after the war to dispose of obsolete Civil War ordnance


For sale

............$400.
Details click: http://relicman.com/artillery/RelicmanSalesArtillery-A0086.html.